Earthquake in Turkey: Latest News, Updates, and Safety Tips
Devastating Earthquake strikes Turkey and Syria
On Monday, a 7.8-magnitude earthquake hit Turkey and Syria, causing widespread destruction and loss of life. The earthquake, one of the strongest to hit the region in a century, sent tremors as far away as Lebanon and Israel.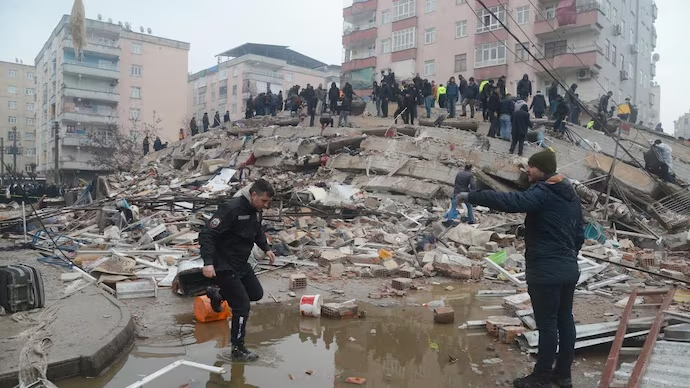 Casualties
In Turkey, at least 2,921 people lost their lives and more than 15,800 others were injured. In neighboring Syria, the death toll reached 1,451, with 711 reported in government-controlled areas and 740 in opposition-controlled areas. The epicenter of the earthquake was located in Turkey's Gaziantep province.
Aftershocks and rescue efforts
Several aftershocks have been felt throughout the day, including one measuring 7.5 in magnitude. Countries around the world have sent rescue workers to assist with the efforts to find and free trapped civilians. However, the rescue efforts are hampered by the cold and wet weather system moving through the region.
Worst earthquake in Turkey since 1939
Monday's earthquake is the strongest to hit Turkey since 1939, when an earthquake of the same magnitude killed 30,000 people. Earthquakes of this magnitude are rare, with fewer than five occurring each year on average worldwide.
Expert Analysis
Karl Lang, an assistant professor at Georgia Tech University's School of Earth and Atmospheric Sciences, explains that the area hit by the earthquake is prone to seismic activity, but this earthquake is larger than any experienced in recent memory.
Eye-witness Accounts
Eyad Kourdi, a CNN producer in Gaziantep, describes the aftershocks as "like Armageddon" and expresses shock that he made it out alive. Dr. Mazen Kewara, Turkey director of the Syrian American Medical Society (SAMS), reports that many buildings in Gaziantep have collapsed, including four hospitals.
Conclusion
The devastating earthquake in Turkey and Syria has caused widespread destruction and loss of life. Despite the challenges posed by the weather and aftershocks, rescue efforts continue as the world comes together to assist those in need.